Quote Spreadsheet Template Pro version
This Quote spreadsheet template [Pro version] is a replica of the quote template we use at ExcelSuperSite. It is very simple and straight forward to use. Perfect for a start-up business or individual to use to send off quotes to clients and potential customers.
Simply input your own details at the top and you'll be creating quotes faster than you can say "ExcelSuperSite Quote Spreadsheet Template!!".
Sending Quotes
When it comes to sending your quotes, we recommend to print your Quote to PDF first. Since Excel 2013, Excel has an integrated PDF printer that allows you to "print" your invoices to PDF without the need of having additional 3rd party software installed on your computer.
Download
File Type:
XLSM

version
Template
TEMPLATE VERSION
1.0
MINIMUM EXCEL REQUIREMENT
Microsoft Excel® 2007 +
MACROS
Contains macros
LICENSE
User License Agreement
Not ready to go PRO ???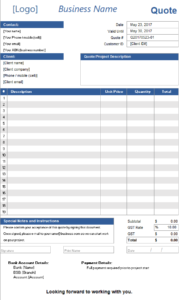 The free version of the Quote spreadsheet template is a simplified version for those that do not need all the extra "bells and whistles" that come with the Pro version.
The Quote spreadsheet template – free version has all the same basic functionality as the Pro version however it does not include:
Push button automation to generate PDF copies of your Quotes
The template is locked to prevent accidental changes to its structure and formulas
Has a limited ability to customise the look and feel of the template.
Click here to download to the free version of the Quote spreadsheet template.

Need further customisation?
Would you like to have this template further customised to meet your requirements – no problem at all.
Contact us today with what you would like done and we'll jump right onto it for you.
Explore our other ExcelSuperSite Excel spreadsheet templates and downloads
Other places to explore spreadsheet templates and downloads
Other places to look for free spreadsheet templates: